Soap Gift Box Trio 80g
Our natural Soap is handmade in Sudbury in Suffolk, by me Julie, the Bee-farmer's Wife.
Using our Honey and Beeswax from our own Bee Hives, we had our first Honey & Beeswax Soap recipe successfully assessed by a Cosmetic Safety Company in July 2020
Our first soap is made using a Lye Solution together with Coconut Oil, Olive Oil, Rapeseed Oil, Castor Seed Oil, Shea Butter, Beeswax, Turmeric, Honey, Bergamot Essential Oil and Lime Essential Oil.
In Commercial Soaps it is usual for the Glycerin, which is a natural by-product of the saponification process, to be removed,
Our Artisan Soaps retain the Glycerin which is gentler on the skin, making it a good choice for people who have particularly dry or sensitive skin.
Gift Wrap Available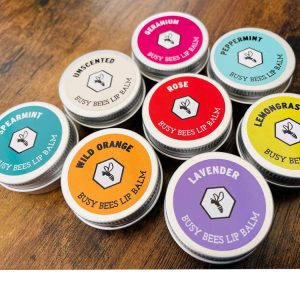 Beeswax Cosmetics
12g aluminium round tin Lip Balms Made with our own beeswax, coconut oil, shea butter and essential oil.
£

6.50